Review: Dating You Hating You by Christina Lauren
Synopsis for Dating You Hating You

Despite the odds against them from an embarrassing meet-awkward at a mutual friend's Halloween party, Carter and Evie immediately hit it off. Even the realization that they're both high-powered agents at competing firms in Hollywood isn't enough to squash the fire.

But when their two agencies merge—causing the pair to vie for the same position—all bets are off. What could have been a beautiful, blossoming romance turns into an all-out war of sabotage. Carter and Evie are both thirtysomething professionals—so why can't they act like it?

Can Carter stop trying to please everyone and see how their mutual boss is really playing the game? Can Evie put aside her competitive nature long enough to figure out what she really wants in life? Can their actor clients just be something close to human? Whether these two Hollywood love/hatebirds get the storybook Hollywood ending or just a dramedy of epic proportions, you will get to enjoy Christina Lauren's heartfelt, raucous, and hilarious romance style at its finest.
The first thing I thought when I read the synopsis of Dating You Hating You was that it sounded similar to The Hating Game. I loved The Hating Game, so started reading Dating You Hating You right away. I fell in love with the characters instantly. If you're a huge Harry Potter fan like I am you'll instantly fall in love with Evie and Carter, too. They met by dressing up as Harry Potter characters at a Halloween party! That's screams instant love to me.
There wasn't a single time I didn't like Evie or Carter and I especially loved them together. I had many laugh out loud moments with these two. They met and liked each other right away so when they were put on the spot to compete for the same position tension rose. It was amusing to read both the sexual tension and frustration between Evie and Carter. No matter how hard they tried they could not resist each other.
Evie was an excellent female lead. She was smart, career driven, and while her friends called her picky, I think she just knew what she wanted in life. Carter wasn't my usual type for a male lead. I usually love the bad, mean, alpha male – but Carter was such a sweetheart! I couldn't help but fall in love with him. Every time he said something to Evie I just melted. I would have been putty in his hands, too.
I haven't read Christina Lauren's Beautiful Strangers series, but after reading Dating You Hating You I definitely want to!
I received this book in exchange for an honest review. This does not affect my opnion of the book in any way. 
The following two tabs change content below.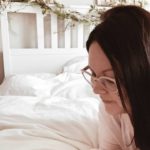 Obsessive book lover and compulsive book merchandise buyer.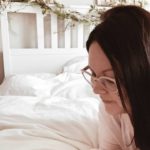 Latest posts by Samantha Andrews (see all)