Review: Tell Me Three Things by Julie Buxbaum
Synopsis for Tell Me Three Things

Everything about Jessie is wrong. At least, that's what it feels like during her first week of junior year at her new ultra-intimidating prep school in Los Angeles. Just when she's thinking about hightailing it back to Chicago, she gets an email from a person calling themselves Somebody/Nobody (SN for short), offering to help her navigate the wilds of Wood Valley High School. Is it an elaborate hoax? Or can she rely on SN for some much-needed help?

It's been barely two years since her mother's death, and because her father eloped with a woman he met online, Jessie has been forced to move across the country to live with her stepmonster and her pretentious teenage son.

In a leap of faith—or an act of complete desperation—Jessie begins to rely on SN, and SN quickly becomes her lifeline and closest ally. Jessie can't help wanting to meet SN in person. But are some mysteries better left unsolved?

Julie Buxbaum mixes comedy and tragedy, love and loss, pain and elation, in her debut YA novel filled with characters who will come to feel like friends.
Have you ever had the sudden urge to stop reading a book in favor of a random new one? That's how I got started with Tell Me Three Things. I could tell right away that I would love Tell Me Three Things because it kept me up until two in the morning, a sure sign of success for any book in my collection.
It was such a beautiful, sweet story and a reminder of how great humanity can be. Jessie's mother died two years ago, changing her life forever. She has to move to a different state and start going to a brand new high school. It's hard enough making friends, but in high school it's the worst. I really felt for Jessie because, once upon a time, I was in high school and I remember all too well how much I hated it. Kids, especially teens, can be so mean! I felt strongly for Jessie: the loss of her mother; a new step mother; a new home that never felt like a home for her; a new school; having to make new friends – all that would overwhelm any person.
Fortunately, Jessie finds solace in her secret emailer, though they end up IMing each other. I thought I knew who the person was right away, but then I kept second guessing myself. I had my hopes on who it would be, too, but it didn't all come together until close to the end, which I'm glad for. I would have been upset if it was too easy for me to guess. Their IMs had me laughing and practically screaming for them to meet already! And when that meeting finally came, wow, it was intense with anticipation to see if my guess was right.
If you enjoy contemporary YA, I urge you to read Tell Me Three Things. When a book can make me tear up, smile, and laugh, it is well worth the loss of sleep from staying up until two in the morning to finish.
The following two tabs change content below.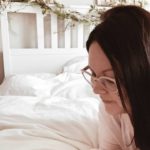 Obsessive book lover and compulsive book merchandise buyer.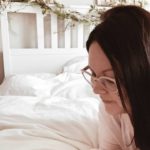 Latest posts by Samantha Andrews (see all)