Review: A Kingdom of Flesh and Fire by Jennifer L. Armentrout
Synopsis for A Kingdom of Flesh and Fire
A Betrayal…

Everything Poppy has ever believed in is a lie, including the man she was falling in love with. Thrust among those who see her as a symbol of a monstrous kingdom, she barely knows who she is without the veil of the Maiden. But what she does know is that nothing is as dangerous to her as him. The Dark One. The Prince of Atlantia. He wants her to fight him, and that's one order she's more than happy to obey. He may have taken her, but he will never have her.

A Choice…

Casteel Da'Neer is known by many names and many faces. His lies are as seductive as his touch. His truths as sensual as his bite. Poppy knows better than to trust him. He needs her alive, healthy, and whole to achieve his goals. But he's the only way for her to get what she wants—to find her brother Ian and see for herself if he has become a soulless Ascended. Working with Casteel instead of against him presents its own risks. He still tempts her with every breath, offering up all she's ever wanted. Casteel has plans for her. Ones that could expose her to unimaginable pleasure and unfathomable pain. Plans that will force her to look beyond everything she thought she knew about herself—about him. Plans that could bind their lives together in unexpected ways that neither kingdom is prepared for. And she's far too reckless, too hungry, to resist the temptation.

A Secret…

But unrest has grown in Atlantia as they await the return of their Prince. Whispers of war have become stronger, and Poppy is at the very heart of it all. The King wants to use her to send a message. The Descenters want her dead. The wolven are growing more unpredictable. And as her abilities to feel pain and emotion begin to grow and strengthen, the Atlantians start to fear her. Dark secrets are at play, ones steeped in the blood-drenched sins of two kingdoms that would do anything to keep the truth hidden. But when the earth begins to shake, and the skies start to bleed, it may already be too late.
For most of A Kingdom of Flesh and Fire I was considering giving it a three star review on Goodreads. Poppy nearly gave my eye muscles cramps from rolling so often. She was indecisive most of the time, and if anyone so much as blinked at her she was ready to stab them. She wasn't the Poppy I came to love in From Blood and Ash. Another thing that I didn't enjoy too much about this book was all the info dumping.
Was this supposed to be a romantic fantasy or a history textbook on Atlantia because it felt like a textbook. It was clever that the author wrote the info by having Poppy ask all the necessary questions and Kieran or Casteel would respond, but again, another thing that ended up annoying me about Poppy.
Perhaps I'm being too harsh on Poppy because she isn't all bad. She can fight! And I always appreciate a badass character. She reminded me of Aelin from Throne of Glass or Katniss from The Hunger Games. She's determined, stands her ground, and is also helpful to the people around her.
What really turned the book into a five star review was the second half of the book. Wow!! Wow!! I don't think I could say wow enough times. That second half blew me away. The sweet, swoon worthy moments between her and Casteel made me so happy. Don't even get me started on the steamy scenes. Those were excellent! There was also anticipation of battle, fierce fighting, and the excitement of what will happen next. I also have some suspicions about Poppy, Casteel, and Kieran that I'm hoping will happen in the next book. The ending was phenomenal! It's going to be a long wait until book three.
The following two tabs change content below.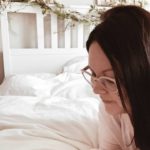 Obsessive book lover and compulsive book merchandise buyer.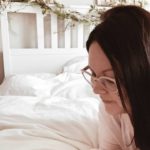 Latest posts by Samantha Andrews (see all)