Review: Wait by A.L. Jackson
Synopsis for Wait

She is his strength and he is her weakness. And this time he won't let her go.

Edie Evans is gorgeous.
Sexy.
Kind.
She's also the definition of off-limits.
But that didn't stop me from sneaking into her room to comfort her at night.
But guys like me? We destroy everything, so it should have been no surprise when I destroyed us, too.
The night I sent her running, I thought I'd never see her again.
Until I saw her standing like a vision in the crowd.

Austin Stone is dangerous.
Alluring.
Tempting.
He broke my heart and I refused to give him the chance to do it again.
It's been years since I've seen him, and now I can't do anything but stare at the gorgeous, tattooed man playing onstage. I should run. I know I should. But like a fool, I run straight back to him.
Our desire is overpowering.
Our need unrelenting.

She is my hope.
He is my weakness.
We should have known a passion this intense would burn us right into the ground.
I received this book for free in exchange for an honest review. This does not affect my opinion of the book in any way.
I was so excited to receive Wait, being the huge romance fanatic that I am. Just from reading the synopsis I knew it would be something that I would enjoy. It is the fourth book in A.L. Jackson's Bleeding Stars series, but after reading it I can say that it can be read as a stand-alone just as well.
Jackson started Wait with so much intrigue right out of the gate. I was instantly eager to find out more of Edie's story. It kept me from putting down the book because of all the mystery surrounding Edie's life and what had her so upset.
Edie and Austin were once close friends until Austin betrayed Edie. They haven't seen each other in years when one day they have a run in. There wasn't much waiting until I found out Austin had a tragic story of his own. I was able to guess Austin's story right away, but it took until I read all of Wait to find out what happened to Edie. The fact that Austin's story was maybe a little predictable didn't make it any less sad. I wasn't expecting both of their stories to be so sorrowful! You think you have what happened to Edie all figured out until the end and it gutted me! Together, Edie and Austin's lives were a bucket of mournful events. What made Wait so beautiful, though, was the relationship Edie and Austin had. The understanding, the comfort, and the love they had melted my heart.
I will say at times I felt a bit thrown off from the story because it read too choppy to me. There was a lot of short sentences over and over and I, personally, did not like that. At times I wanted to get back to Edie and Austin's story and their dialogue instead of reading "I lingered there." "Breathing in the girl." "The sweet and the pure." They're lovely words, heart melting words, but there was so much of it that it lost its appeal on me.
The story itself was interesting and I enjoyed that part. Also, there were characters from her previous books that I would love to know their full story, but if her writing style is the same short, choppy sentences over and over I may not read them. I'm willing to give the first book of the Bleeding Stars series a chance though.
The following two tabs change content below.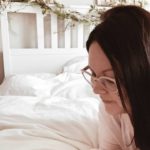 Obsessive book lover and compulsive book merchandise buyer.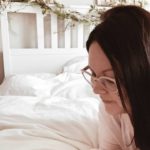 Latest posts by Samantha Andrews (see all)