Review: 10 Things I Can See from Here by Carrie Mac
Synopsis for 10 Things I Can See from Here

Think positive.
Don't worry; be happy.
Keep calm and carry on.

Maeve has heard it all before. She's been struggling with severe anxiety for a long time, and as much as she wishes it was something she could just talk herself out of, it's not. She constantly imagines the worst, composes obituaries in her head, and is always ready for things to fall apart. To add to her troubles, her mom—the only one who really gets what Maeve goes through—is leaving for six months, so Maeve will be sent to live with her dad in Vancouver.

Vancouver brings a slew of new worries, but Maeve finds brief moments of calm (as well as even more worries) with Salix, a local girl who doesn't seem to worry about anything. Between her dad's wavering sobriety, her very pregnant stepmom insisting on a home birth, and her bumbling courtship with Salix, this summer brings more catastrophes than even Maeve could have foreseen. Will she be able to navigate through all the chaos to be there for the people she loves?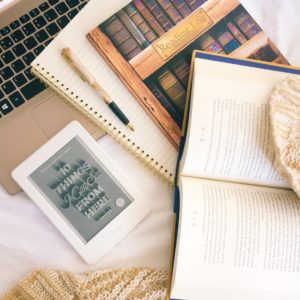 I rarely, if ever, get personal on my blog, but after reading 10 Things I Can See From Here and feeling so connected to Maeve I feel like I have to explain why. About five years ago I was diagnosed with major depression and severe anxiety. The sleepless nights, the urge to do hours worth of "research" on the computer, the fear, the worry – never have I seen myself so well in a character as I did with Maeve.
Maeve, too, suffered from severe anxiety and spent countless hours researching online about whatever she was worrying over. The constant worry Maeve faces from the time she wakes to the time she goes to bed is real. It's what I go through every single day. I frustrate those around me because of it, but it's honestly something I can not help.
It's bad enough Maeve has severe anxiety, but her world is also turned upside down when she moves in with her alcoholic father, pregnant step-mom, and twin brothers. She finds an escape in Salix and there's an instant connection. I admire Salix for her understanding with Maeve's anxiety. It's difficult to find others who will understand or tolerate anxiety. It's annoying and frustrating to most – and being told "don't worry" does not work.
For me, 10 Things I Can See From Here was realistic and difficult to read at times. While Maeve and Salix were great together, this book was not a cute, fun, read. It was rough reading about Maeve's anxiety and the issues in her family. I do wonder if there will be a second book. I didn't feel like we got closure with Maeve's mother and father, and I would also love to read more about Maeve and Salix.
I received this book in exchange for a honest review. This does not affect my opinion of the book in any way.
The following two tabs change content below.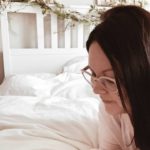 Obsessive book lover and compulsive book merchandise buyer.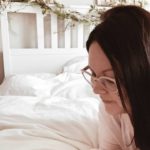 Latest posts by Samantha Andrews (see all)