Review: The Hating Game by Sally Thorne
Synopsis for The Hating Game

Nemesis (n.)
1) An opponent or rival whom a person cannot best or overcome;
2) A person's undoing;
3) Joshua Templeman.

Lucy Hutton and Joshua Templeman hate each other. Not dislike. Not begrudgingly tolerate. Hate. And they have no problem displaying their feelings through a series of ritualistic passive aggressive maneuvers as they sit across from each other, executive assistants to co-CEOs of a publishing company. Lucy can't understand Joshua's joyless, uptight, meticulous approach to his job. Joshua is clearly baffled by Lucy's overly bright clothes, quirkiness, and Pollyanna attitude.

Now up for the same promotion, their battle of wills has come to a head and Lucy refuses to back down when their latest game could cost her her dream job…But the tension between Lucy and Joshua has also reached its boiling point, and Lucy is discovering that maybe she doesn't hate Joshua. And maybe, he doesn't hate her either. Or maybe this is just another game.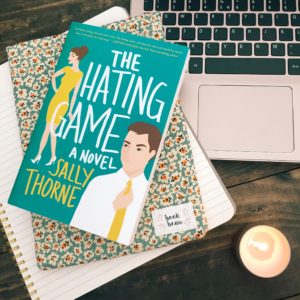 I needed something fun to read after a particularly emotional book I had read . I kept hearing about how cute and funny The Hating Game was, so I dived right in. I love romantic comedy movies and The Hating Game read like the perfect rom-com. Seriously, I can picture Hollywood getting ahold of it now and causing all the laughs and sighs that the book did. Maybe a director is reading my blog post now (I know, wishful thinking) and we'll see The Hating Game in theaters summer of 2019 (more wishful thinking).
I would love to see Lucy on screen. She's my new favorite character. I found her so relatable. It must have been the fact that she's five foot even, the same height as me, is always referred to as cute, which is more annoying than flattering especially for a grown woman, and yet has one heck of a feisty attitude. Yes, we may be small, but we tend to have big attitudes. Over compensating? Maybe. But in Lucy's case I understood where her attitude came from. Lucy had such a jerk of a co-worker in Josh Templeman. Those two were constantly bickering (in a way that made for a lot of laughter). And of course there were plenty of swoon-worthy, heart-eyes, wistful-sigh moments.
There ended up being a lot more to Josh then the cold hardass persona he displayed at work. The more I read, the more I found out about him and couldn't help but love him. The Hating Game was a cute enemies-to-lovers story, which may sound weird to say. Who becomes lovers with their enemy? I never really got the impression they actually hated each other though. It felt more like sexual tension between those two than hate. Or maybe it's just the romantic in me? You'll have to read it, too, to let me know what you think!
The following two tabs change content below.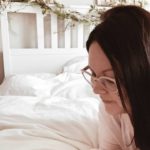 Obsessive book lover and compulsive book merchandise buyer.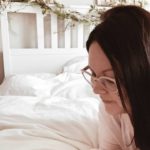 Latest posts by Samantha Andrews (see all)