Review: Rise by Luis Almonte
Synopsis for Rise

Fifteen-year-old high school sophomore Alexia Wick is an ordinary girl, with extraordinary abilities. She attends the prestigious South Haven Academy for the Gifted and Talented, but unknown to the other students, she is an Alerium witch. The daughter of a High Priest and Priestess, Alexia must learn to navigate the pressures of high school, all while preparing for one of the biggest competitions of her life- the Annual Trials.

Skill, stamina, and loyalty will all be tested in Rise, the first installment of the Trifecta Series. In this debut contemporary fantasy novel, magic gets real as Alexia trains for the Annual Trials, which pits teen against teen, by focusing on her craft and pushing her magic and spell casting abilities to their absolute limit. When the handsome and confident Kaleb moves into town, he offers Alexia a welcome distraction from the Trials, but a dark secret could soon tear them apart.

In the trials arena, friendships will be put to the test, fears will be confronted head-on, and powerful spells will be unleashed. When Alexia is confronted with the ultimate game of chance, and is torn between her first real love and the allegiance that binds her to her coven, will she buckle under the weight of the pressure … or will she rise to the challenge?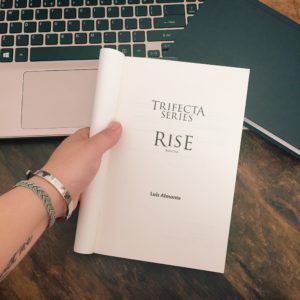 Rise started out with a bang. I really enjoyed reading about Alexia, the protagonist, and her world of witches and vampires. Whenever I read fantasy books I always like to see how an author will approach their version of witches, vampires, and magic. Almonte's magic was so fun to read about. The spells he thought of were clever and I was easily able to envision them. The same can be said about the action scenes – tons of excitement, anticipation, and visuals.
Rise has a lot going on: Alexia having to make her rite of passage, unrest between witches and vampires, romance, a stolen book, and drama. Maybe because there was so much going on there was parts in the story where I felt more of an explanation was needed, rather than adding another problem. For example, knowing more about the other covens (not just the one Alexia was in) would have been nice. It still made for an interesting story, though.
Now to my favorite part, the romance! It was the usual forbidden love between witch and vampire. I don't mind tropes (some of them – begone, love triangles!). I just wish I felt a real connection between Alexia and Kaleb. It's important to "show" a romance blossoming, rather than just flatly stating there's a romance. I need to see it through actions. Preferably over the course of a few weeks, at the very least.
Despite any grievances I had, Rise was still an entertaining read and a series I would gladly continue reading. With crafty spells and intense fighting scenes, I'm confident the next books will be worth a read.
I received this book in exchange for a honest review. This does not affect my opinion of the book in any way.  
The following two tabs change content below.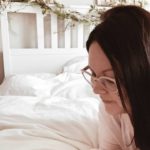 Obsessive book lover and compulsive book merchandise buyer.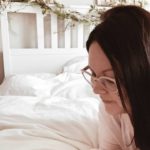 Latest posts by Samantha Andrews (see all)