Review: Scarlet by Marissa Meyer
Synopsis for Scarlet

Cinder, the cyborg mechanic, returns in the second thrilling installment of the bestselling Lunar Chronicles. She's trying to break out of prison—even though if she succeeds, she'll be the Commonwealth's most wanted fugitive.

Halfway around the world, Scarlet Benoit's grandmother is missing. It turns out there are many things Scarlet doesn't know about her grandmother or the grave danger she has lived in her whole life. When Scarlet encounters Wolf, a street fighter who may have information as to her grandmother's whereabouts, she is loath to trust this stranger, but is inexplicably drawn to him, and he to her. As Scarlet and Wolf unravel one mystery, they encounter another when they meet Cinder. Now, all of them must stay one step ahead of the vicious Lunar Queen Levana, who will do anything for the handsome Prince Kai to become her husband, her king, her prisoner.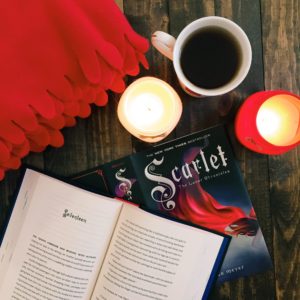 I'm thinking I may have to retract my statement about not liking sci-fi. Once again a sci-fi book made me fall in love with it. In fact, I'm thinking I liked Scarlet more than I liked Cinder (the only sci-fi book I'd ever loved up until this one). While I very much enjoyed Cinder, Kai, and Iko, Scarlet introduced me to even better, fun-loving characters.
Scarlet was a feisty character. She had a lot of attitude that I often felt lacked the wit and sarcasm my usual favorite, feisty, characters have, but I had to remind myself that Scarlet was overwhelmed with worry for her missing grandmother. That would cause me to be more than a little moody as well. She acted irrational at times too, but again that can be chalked up to her worry because she did seem to become a different person by the end of the book.
I was really unsure about Wolf from the start of his introduction into the story. He acted as if he was shy and timid, but there was more to him than meets the eye; I was constantly wondering if I could trust him. I had moments of "aww, he's sweet and I want him as a book boyfriend" but also moments of "oh no, he didn't. Time to kick him to the curb." I'll leave it at that so as not to spoil it though.
By far my absolute favorite character was Carswell Thorne. I need about 30 minutes to fangirl over him, please. He had me laughing throughout the book. He doesn't even have to be a book boyfriend of mine. I will gladly accept him as a best friend. He was so full of himself and turned on a full blast of charm that I couldn't help but instantly love him. He reminded me of Nikolai from The Grisha Trilogy. There were plenty of sobering parts in Scarlet and yet Thorne was still able to make me laugh. I liked that even though there were moments of seriousness in the book, there were also fun and humorous moments.
I also liked that Cinder, Kai, and Scarlet had their points of view told throughout the book. Sometimes I get confused with the constant back and forth between multiple characters, but Meyer wrote it in a way that I didn't notice we were switching to different characters. It was a seamless transition and I was easily able to keep up.
I hope Cress, the third book, keeps up the momentum that Cinder and Scarlet have now established.
The following two tabs change content below.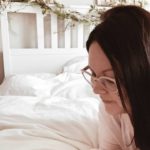 Obsessive book lover and compulsive book merchandise buyer.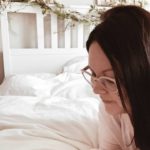 Latest posts by Samantha Andrews (see all)