Review: Winter by Marissa Meyer
Synopsis for Winter

Princess Winter is admired by the Lunar people for her grace and kindness, and despite the scars that mar her face, her beauty is said to be even more breathtaking than that of her stepmother, Queen Levana.

Winter despises her stepmother, and knows Levana won't approve of her feelings for her childhood friend–the handsome palace guard, Jacin. But Winter isn't as weak as Levana believes her to be and she's been undermining her stepmother's wishes for years. Together with the cyborg mechanic, Cinder, and her allies, Winter might even have the power to launch a revolution and win a war that's been raging for far too long.

Can Cinder, Scarlet, Cress, and Winter defeat Levana and find their happily ever afters? Fans will not want to miss this thrilling conclusion to Marissa Meyer's national bestselling Lunar Chronicles series.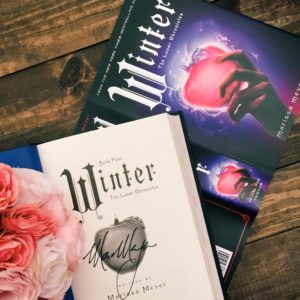 Winter was the final book in The Lunar Chronicles and my expectations were high – really high. Each successive book in the series kept getting better, so Winter really had a high bar to achieve – and it did. Winter was the perfect way to end this series.
I have to say The Lunar Chronicles characters are squad goals. What an amazing set of characters! Every character was different, but they all worked so well together. And when they were together there was so much in the way of witty banter, jokes, and camaraderie amongst them that I couldn't wipe the smile off my face.
It wasn't all fun and games for them, though. Winter had me antsy with anticipation because so much could, and did, go wrong. It felt like for every step the characters took forward, something (or someone) pushed them back. I couldn't take it anymore! I just wanted them all safe and happy. I was so glad they all had each other because they were an amazing support system. Even though there was romance among Cinder and Kai, Scarlet and Wolf, Cress and Thorne, and Winter and Jacin, it never felt like they were in it for themselves. They came together for a common cause. They helped each other, saved each other, and I couldn't imagine them getting where they did without one another.
When there was action it was heart pounding and I couldn't read the pages fast enough. There was also plenty of romance! I have to say Cress and Thorne are my favorite couple, while Cinder and Kai are in a close second.
The ending tied the events of the Lunar Chronicles up perfectly. I hate it when a series is left feeling unfinished, but I did not get that from Winter. I do wish there had been an epilogue with more about where the characters went, but that's just me being greedy because it was such an excellent series.
The following two tabs change content below.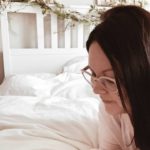 Obsessive book lover and compulsive book merchandise buyer.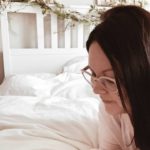 Latest posts by Samantha Andrews (see all)