Review: Alex and Eliza by Melissa de la Cruz
Synopsis for Alex and Eliza

Their romance shaped a nation. The rest was history.

1777. Albany, New York.

As battle cries of the American Revolution echo in the distance, servants flutter about preparing for one of New York society's biggest events: the Schuylers' grand ball. Descended from two of the oldest and most distinguished bloodlines in New York, the Schuylers are proud to be one of their fledgling country's founding families, and even prouder still of their three daughters—Angelica, with her razor-sharp wit; Peggy, with her dazzling looks; and Eliza, whose beauty and charm rival that of both her sisters, though she'd rather be aiding the colonists' cause than dressing up for some silly ball.

Still, she can barely contain her excitement when she hears of the arrival of one Alexander Hamilton, a mysterious, rakish young colonel and General George Washington's right-hand man. Though Alex has arrived as the bearer of bad news for the Schuylers, he can't believe his luck—as an orphan, and a bastard one at that—to be in such esteemed company. And when Alex and Eliza meet that fateful night, so begins an epic love story that would forever change the course of American history.
I was really unsure about Alex and Eliza because I'm not a fan of the musical Hamilton – really, I'm just not a fan of musicals at all. However, I think anyone can enjoy Alex and Eliza even without knowing a single thing about the musical. Though I do think Hamilton fans will just adore this book. I gave Alex and Eliza a try because it is a love story and we all know how I feel about romance, yes, even YA romance.
I won't say I fell in love with this book, but I did end up liking it. Surprisingly enough I liked it more because of the history than the romance. Maybe it was because of the creative liberty the author had to take on Alex and Eliza's lives, but I just did not connect with the romance. I felt no chemistry, which saddens me because that's the whole reason I picked up the book.
I found the most enjoyment in reading about the time period. I love reading historical fiction and the descriptions of clothing worn, hair styles done, events that occurred, and buildings that were around. Some might say those parts are slow and boring, but I found them interesting.
It was cute enough and entertaining enough to enjoy, but Alex and Eliza isn't a book I'll remember.
I received this book in exchange for an honest review. This does not affect my opinion of the book in any way. 
The following two tabs change content below.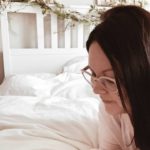 Obsessive book lover and compulsive book merchandise buyer.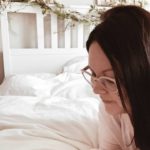 Latest posts by Samantha Andrews (see all)