Review: Atheists Who Kneel and Pray by Tarryn Fisher
Synopsis for Atheists Who Kneel and Pray

Yara Phillips is a wandering muse.

She dates men who need her, but always moves on to something new, never staying in one place for very long.

David Lisey is in need of a muse.

A talented musician lacking lyrical inspiration. When he first sees her, he knows he's found what he's been looking for.

Yara believes she can give David exactly what he needs to reach his full potential:
A broken heart.

David's religion is love.

Yara's religion is heartache.

Neither is willing to surrender, but religion always requires sacrifice
Atheists Who Kneel and Pray was my first Tarryn Fisher book and it blew me away. I read a ton of romance books. I enjoy some, love some, and then there's some that stay with me forever. Atheists Who Kneel and Pray is one that I both loved and will stay with me forever and I want to read all the romance books Fisher writes now.  I won't be forgetting Yara and David's story anytime soon.
Yara and David are far from perfect. David is a musician who's feeling a bit lost when he encounters Yara. She ends up being his muse and their relationship is hot and heavy. Of course no relationship stays perfect forever and that's where the heartbreak happens. It was a roller coaster to read about Yara and David, but I loved every moment of it. I was rejoicing for them, yelling at them, and at times so frustrated with them. It was all worth it though. Their love story was like no other story I've read.
I'm not surprised that I finished Atheists Who Kneel and Pray in a day. It was beautiful, but also imperfect. I appreciated that this particular love story showed that to get a happily ever after a hard battle sometimes needs to be fought. Yara and David fought for theirs.
I definitely want to go read all of Fisher's romance books and any future romance books she writes will be immediately bought and read by me.
I received a copy of this book in exchange for an honest review. This is no way affects my opinion of the book. 
The following two tabs change content below.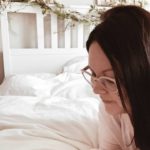 Obsessive book lover and compulsive book merchandise buyer.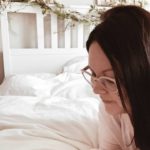 Latest posts by Samantha Andrews (see all)