Review: The Seven Husbands of Evelyn Hugo by Taylor Jenkins Reid
Synopsis for The Seven Husbands of Evelyn Hugo

Evelyn Hugo is finally ready to tell the truth about her glamorous and scandalous life. But when she chooses unknown magazine reporter Monique Grant for the job, no one in the journalism community is more astounded than Monique herself. Why her? Why now?

Monique is not exactly on top of the world. Her husband, David, has left her, and her career has stagnated. Regardless of why Evelyn has chosen her to write her biography, Monique is determined to use this opportunity to jumpstart her career.

Summoned to Evelyn's Upper East Side apartment, Monique listens as Evelyn unfurls her story: from making her way to Los Angeles in the 1950s to her decision to leave show business in the late 80s, and, of course, the seven husbands along the way. As Evelyn's life unfolds through the decades—revealing a ruthless ambition, an unexpected friendship, and a great forbidden love—Monique begins to feel a very a real connection to the actress. But as Evelyn's story catches up with the present, it becomes clear that her life intersects with Monique's own in tragic and irreversible ways.
I don't know where to start with this review because I loved everything about The Seven Husbands of Evelyn Hugo. This book spoke to me on so many levels. I understood Evelyn on one certain subject that really made me think. The diversity in this book was encouraging. The powerful women of color had me smiling ear to ear.
Evelyn Hugo was a character I'll never forget. She's a character I ended up loving, admiring, but also hating and feeling disappointment towards. She had to make some of the toughest decisions any person should have to face, and while some of her decisions left me with a bad feeling, I felt like I understood her reasoning. Her determination and her unwavering faith in herself is what I admired the most.
What I loved the most about the book as a whole was how I found myself relating to Evelyn in a way I was unaware of. She's a woman of color who was made to be more white for Hollywood. She lost her identity in all the glam and glitz of Hollywood and found herself offended when her Spanish-speaking maid assumed Evelyn couldn't speak Spanish. Evelyn realized she couldn't be offended when it's her fault she lost her roots. I've struggled with this my whole life. I'm Mexican, but grew up so Americanized I might as well be white – yet find myself offended when I'm assumed to be white. It was an eye opener to say the least.
I was completely captivated by Evelyn's life. When her looks, her movies, the gowns she wore to premieres and awards were described it got to the point that I wanted to do a google search on her! She's a fictional character so, sadly, that wasn't possible, but she felt real.
I don't want to say too much more about The Seven Husbands of Evelyn Hugo because there's so many wow factors that you'll want to go in blind. It's best to go in reading this one with only what the synopsis tells you. By the end of the book I was left stunned, speechless, in awe, and in a lot of tears. The Seven Husbands of Evelyn Hugo was by far Taylor Jenkins Reid's best book to date.
I received a copy of this book in exchange for an honest review. This in no way affects my opinion of the book. 
The following two tabs change content below.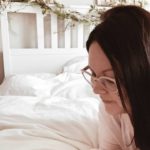 Obsessive book lover and compulsive book merchandise buyer.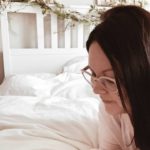 Latest posts by Samantha Andrews (see all)