Review: I Believe in a Thing Called Love by Maurene Goo
Synopsis for I Believe in a Thing Called Love

Desi Lee believes anything is possible if you have a plan. That's how she became student body president. Varsity soccer star. And it's how she'll get into Stanford. But—she's never had a boyfriend. In fact, she's a disaster in romance, a clumsy, stammering humiliation magnet whose botched attempts at flirting have become legendary with her friends. So when the hottest human specimen to have ever lived walks into her life one day, Desi decides to tackle her flirting failures with the same zest she's applied to everything else in her life. She finds guidance in the Korean dramas her father has been obsessively watching for years—where the hapless heroine always seems to end up in the arms of her true love by episode ten. It's a simple formula, and Desi is a quick study. Armed with her "K Drama Steps to True Love," Desi goes after the moody, elusive artist Luca Drakos—and boat rescues, love triangles, and staged car crashes ensue. But when the fun and games turn to true feels, Desi finds out that real love is about way more than just drama.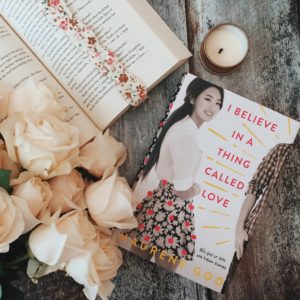 When I first heard about I Believe in a Thing Called Love I knew I had to read it. It's a book with references to k-drama, so of course I was thrilled to dive in. It was such a cute and hilarious book. I was laughing out loud and so hard that I had tears streaming down my eyes. Desi was a loving, fun, hard-working character and I couldn't help but really like her.
I will admit, though, that some of Desi's antics were really far-fetched. Don't get me wrong: I don't mind far-fetched stories. I read books because they are fiction and not real and because they help me escape reality. I know all that on a logical level, so when things don't go according to the way reality would I don't even blink an eye. There was at least one thing Desi did in I Believe in a Thing Called Love, though, that I just couldn't accept. I'm obviously avoiding spoilers here, but I will say that if someone did this in real life it would not be okay. I would be extremely worried about their mental well-being – it was downright frightful what she did. She could have caused severe damage and injuries and the fact that her friends helped her with this just didn't sit well with me at all. If a love interest ever did this for me it would set off all sorts of alarms.
That's really my only complaint about this book. Overall, it was a hilarious book and besides that one event the romance was cute. I was even able to understand Desi's desperation, but maybe accountability for all that she did would have been nice. But I really did appreciate all the k-drama references. Being the new k-drama fanatic that I am, I loved the references as well as the list of k-dramas to watch.
The following two tabs change content below.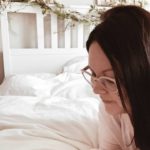 Obsessive book lover and compulsive book merchandise buyer.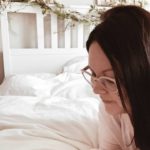 Latest posts by Samantha Andrews (see all)