Review: This Impossible Light by Lily Myers
Synopsis for This Impossible Light

Fifteen-year-old Ivy's world is in flux. Her dad has moved out, her mother is withdrawn, her brother is off at college, and her best friend, Anna, has grown distant. Worst of all, Ivy's body won't stop expanding. She's getting taller and curvier, with no end in sight. Even her beloved math class offers no clear solution to the imbalanced equation that has become Ivy's life.

Everything feels off-kilter until a decision to change the way she eats gives her a boost in confidence and reminds Ivy that her life is her own. If she can just limit what she eats—the way her mother seems to—she can stop herself from growing, focus on the upcoming math competition, and reclaim control of her life. But when her disordered eating gives way to missed opportunities and a devastating health scare, Ivy realizes that she must weigh her mother's issues against her own, and discover what it means to be a part of—and apart from—her family
This Impossible Light was the first novel in verse I've read and I really enjoyed it. I started reading poetry last year and I'm glad, because I was able to appreciate the beauty of this book. It was uniquely written and it hit hard on subjects I'm all too familiar with. Myers wrote verse on eating disorders, body image, depression, loneliness, and broken families.  
My heart broke for Ivy because I truly felt her pain in everything she was facing. Her parents were divorcing, her brother was moving, and her best friend was no longer the person she remembered. In just one summer, Ivy's world was turned upside down. She lost complete control of her life and she felt like she was drowning. Myers did an excellent job conveying all this in verse. I was touched by it all.
The only thing Ivy felt she had control over was her eating habits and thus her eating disorder ensued. She started to restrict what she ate and distracted herself with school. Reading her downward spiral wasn't easy. This Impossible Light was not a fluffy read, but it was a moving one.
Even though this was my first novel in verse it's not going to be my last. I think Myers' choice to write in verse made the story all the more powerful.
I received this book in exchange for an honest review. This does not affect my opinion of the book in any way. 
The following two tabs change content below.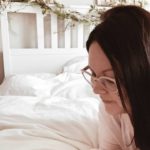 Obsessive book lover and compulsive book merchandise buyer.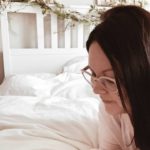 Latest posts by Samantha Andrews (see all)