Review: One True Loves by Taylor Jenkins Reid
Synopsis for One True Loves

In her twenties, Emma Blair marries her high school sweetheart, Jesse. They build a life for themselves, far away from the expectations of their parents and the people of their hometown in Massachusetts. They travel the world together, living life to the fullest and seizing every opportunity for adventure.

On their first wedding anniversary, Jesse is on a helicopter over the Pacific when it goes missing. Just like that, Jesse is gone forever.

Emma quits her job and moves home in an effort to put her life back together. Years later, now in her thirties, Emma runs into an old friend, Sam, and finds herself falling in love again. When Emma and Sam get engaged, it feels like Emma's second chance at happiness.

That is, until Jesse is found. He's alive, and he's been trying all these years to come home to her. With a husband and a fiancé, Emma has to now figure out who she is and what she wants, while trying to protect the ones she loves.

Who is her one true love? What does it mean to love truly?

Emma knows she has to listen to her heart. She's just not sure what it's saying.
I received this book for free in exchange for an honest review. This does not affect my opinion of the book in any way.
Just from reading the synopsis, I knew One True Loves was going to make me cry. Crying because of a book is nothing new to me; I've cried plenty of times at that one sad moment in a book. One True Loves, though, had me crying throughout the book.
Reading One True Loves was like riding a roller coaster. I would be sitting in happy anticipation of what's to come one moment, then feel my stomach drop and be overwhelmed with sadness the next. Emma falling in love for the first time with Jesse caused me to have the happy butterflies in my stomach. I enjoyed reading about them and the travel adventures they went on by themselves and as a couple. They got married in their 20s and they were perfect for each other.
When Jesse never returned after a trip I was able to feel Emma's devastation. It was emotionally crushing to read what she was going through at the loss of her husband. I was able to feel her sorrow for Jesse's loss, but also her hope for love again when she meets Sam.
Where Emma's relationship with Jesse was exciting, Emma's relationship with Sam was so sweet. Emma became a person she never thought she would be after the loss of Jesse. She was happy, comfortable, and knew where life was going to head when, suddenly, Jesse came back into her life – once again I felt my stomach drop. I was hardly able to focus anymore knowing Emma was going to have to pick Jesse, her husband, or Sam, her fiance.
I didn't even know who I wanted her to be with, but by the end of the story I have to say I was happy with her decision. It all fell into place and it felt right. Was it easy? No. Were there tears? Lots. Was it worth it? Oh yes. A perfect story that sometimes in life we end up with more than one true love.
The following two tabs change content below.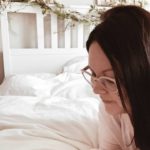 Obsessive book lover and compulsive book merchandise buyer.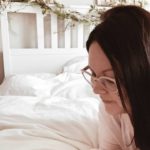 Latest posts by Samantha Andrews (see all)