Taylor Town Shop Flashcards
Teaching a child their letters and numbers is an important task. It paves the road to success and enables our favorite pastime – reading. It can be daunting at times, so I always enjoyed incorporating fun activities when teaching my children their letters and numbers.
Thankfully I found Taylor Town flashcards. They are the most unique flashcards I've ever seen. The stunning artwork was appealing to both my son and I – the colors used were gorgeous and vibrant. Each flashcard was a true eye-catcher. What's really impressive is that every design was hand drawn, painted, and then printed on quality gloss paper. Even the back of the flashcards, which is a black and white plaid, was hand painted and then printed!
What I enjoyed the most about the ABC flashcards was the use of different things for a certain letter. Instead of the usual cat for C, a camp trailer was used; instead of dog for D, Taylor Town uses a dragonfly. It helped my son think outside the box.
Taylor Town also has colors and shapes flashcards, temple flashcards, bug match game wooden tiles, gorgeous prints, and so much more! If you're looking for a fun way to teach your children important milestones be sure to visit Taylor Town Shop. 
I received the flashcards for free in exchange for an honest review. This does not affect my opinion of the flashcards in any way.
The following two tabs change content below.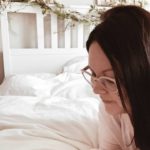 Obsessive book lover and compulsive book merchandise buyer.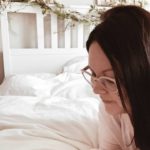 Latest posts by Samantha Andrews (see all)